In December 2017, IUB Libraries and the BFC/A launched the Josef Gugler African and Middle Eastern Film Collection through Indiana University's Image Collections Online (ICO) (see story on BFC/A blog). Since then, I worked with the BFC/A's hourly staff to scan an additional 1,315 posters, photographs, lobby cards, and handbills from the collection and added them to the site for a total of 2100 digitized and searchable items.
At the end of October 2018, IUB Libraries and the BFC/A launched the Black Filmmakers Hall of Fame Photograph Collection. This collection includes photographs documenting and promoting the activities of the Black Filmmakers Hall of Fame (BFHFI) as well as images used in the BFHFI's presentations and publications. The collection also contains a sizeable number of film and production stills that were included with entries submitted to the BFHFI's annual Independent Black Film and Video Competition. At this time, nearly 1,286 access images from the collection are discoverable through Image Collections Online as low-resolution jpeg files.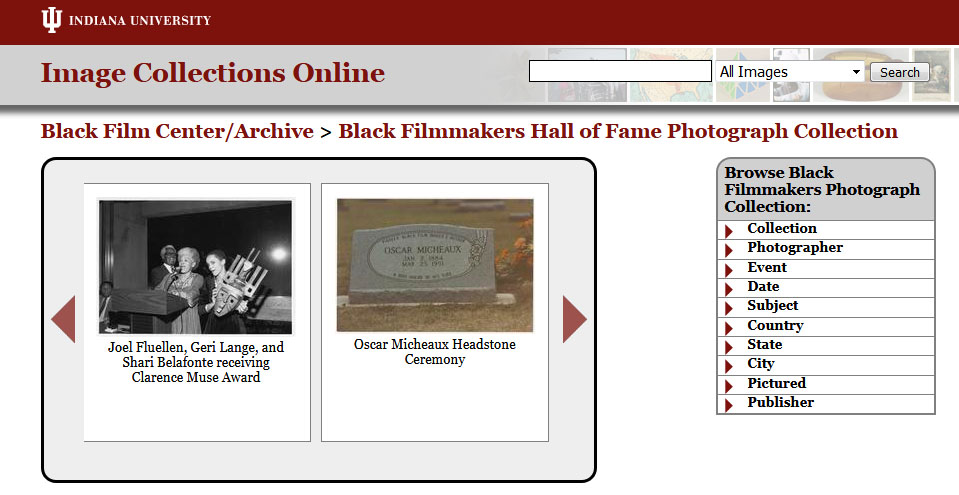 BFC/A donor Mary Perry Smith, co-founded the BFHFI in 1974 as part of a series dedicated to Black pioneers. The first BFHFI Oscar Micheaux Awards Ceremony was a collaboration among the Oakland Museum of California's Culture & Ethnic Affairs Guild, Afro-American Studies at the University of California—Berkley, and KGO-TV. The celebration of pioneering films stars proved immensely popular and became an annual collaboration between the guild and the University of California—Berkley. Events included a month-long film and lecture series followed by an annual Black History Month Celebration weekend that included the award ceremony (1974—1993), a film competition, film symposium, and a screening and lecture series. By 1978, the BFHFI's activities outgrew the resources and energy of the staff at the museum and so it became incorporated as a separate, non-profit organization in 1978.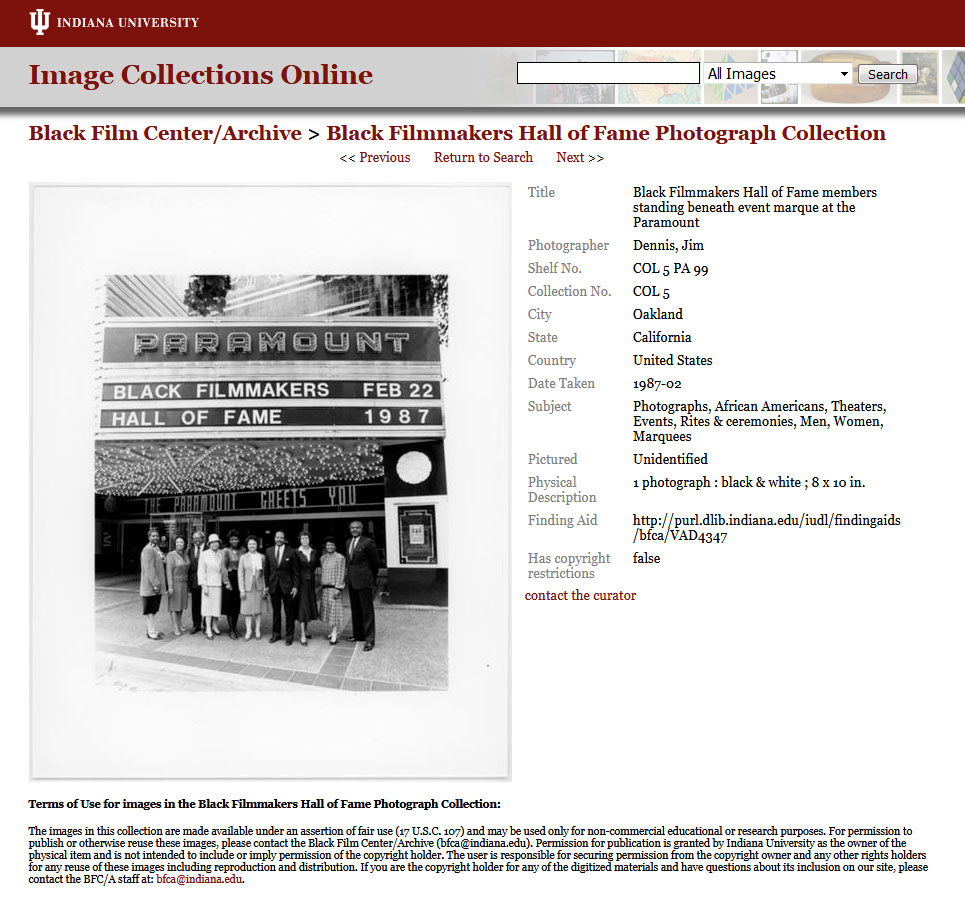 In addition to the celebration events in January and February, the BFHFI sponsored and hosted master classes, workshops, film screenings, and other educational events throughout the year. Inductees and awardees of the BFHFI included celebrities and notable filmmakers such as Paul Robeson, Stepin Fetchit, Gordon Parks, Sammy Davis Jr., Diahann Carroll, Dizzy Gillespie, Sidney Poitier, Harry Belafonte, Julie Dash, Spike Lee, Brock Peters, Maya Angelou, Tempestt Bledsoe, Jim Brown, Madame Sul-Te-Wan, Richard Pryor, and many others. 1990 marked the start of Black Filmworks (last held 2003), a film festival designed to showcase submissions to the annual film competition.
Additional information about the Black Filmmakers Hall of Fame and a full inventory of the papers, audiovisual recordings, promotional materials, and film memorabilia donated by former BFHFI board members Mary Perry Smith and Belva Davis are available through the collection finding aids.
As archivist, one challenge I've encountered with cataloging the images in these collections is deciding which subject headings to adopt as keywords. I draw terms from LCSH and TGM when applicable, but LCSH is well known for having an underlying bias to its choice of terminology. There's a heading for "African American motion picture producers and directors," "Women motion picture producers and directors," "Lesbian motion picture producers and directors," etc., but not Male, Heteronormative, or White motion picture producers and directors. This creates the expectation that when you use "Motion picture producers and directors," you're not using a boarder heading that would contain all the terms above but that "Motion picture producers and directors" is the default for cis white males.
One option would be to just use the broader headings in all item-level records and not to add "African Americans" as it would apply to pretty much every photograph in the BFC/A's collections. This seems great until your metadata gets harvested into a multi-repository discovery system and a search on "African Americans" pulls up absolutely nothing from your repository. Another solution would be to go back and add a narrower term of "White x" and "Male x" and "White male x," but that would be a reclassification nightmare for existing records. I've been adding headings like "Whites" or "Whites in motion pictures" to appropriate records in ICO, but I'm not entirely convinced that this is an ideal solution either.
Scanning work is well underway for the BFC/A's general collection, which consists of a mix of promotional photos, lobby cards, posters, and photographs documenting the BFC/A's history including past staff members, visitors, and events.
Scanning of the material in these collections was performed by BFC/A undergraduate assistant Nyla Lee and former graduate assistant Mikala Narlock. Narlock also assisted the BFC/A archivist with the ingestion and description of images in ICO. Funding in support of this work was given by the IU Office of the Bicentennial Committee.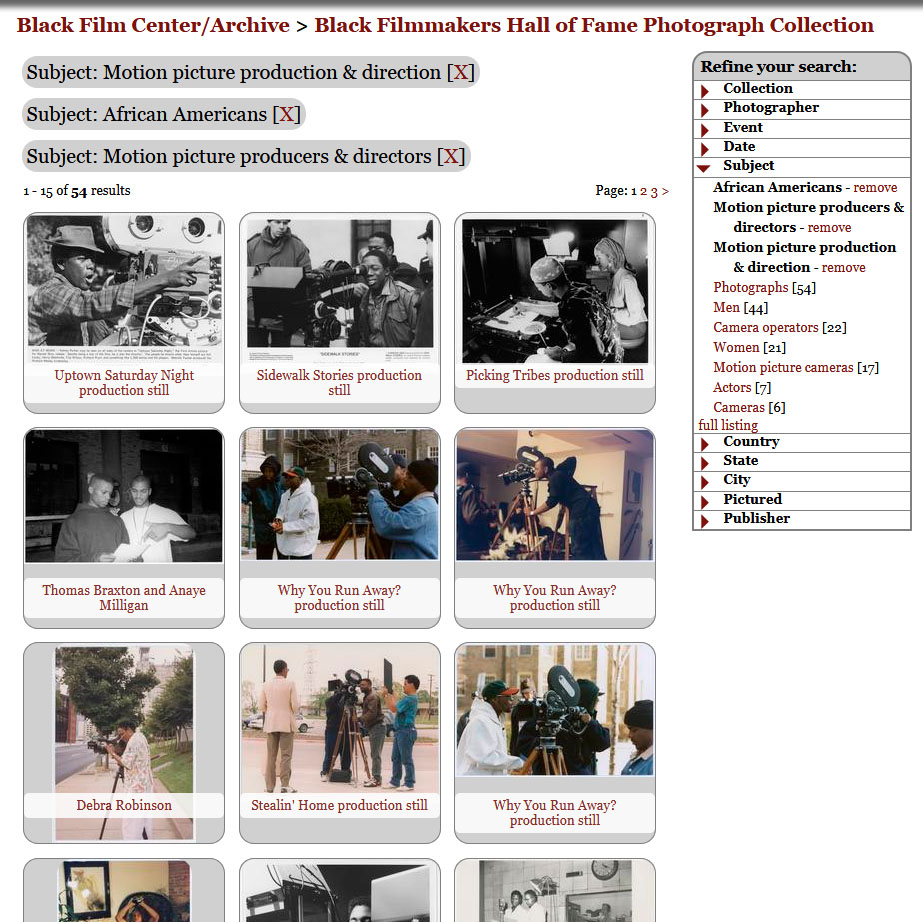 ---
Readers are advised that the views, thoughts, and opinions expressed in this blog belong solely to me as the author and are not necessarily those of the BFC/A or Indiana University.